Views: 298, Date:05/Aug/2016

Brett Favre and Ken Stabler Linked by Toughness That Led Them to Canton
Toughness is etched in Ken Stabler's genetic code. He comes from a long line of soldiers and explorers stretching back centuries. If you want to understand his greatness, and why on Saturday he will enter the Hall of Fame, look at his past.
On Stabler's mother's side, family members served in almost every military conflict in American history. They settled parts of the country, traveling by wagon train. Stabler's father earned a Bronze and Silver Star in Italy while fighting Nazis during World War II.
Stabler had a well-earned reputation as a partier, but beneath all of that, on the football field, was a pulse that rarely rose above the temperature of an ice cube. The more violent the encounter, the tighter the game, the more Stabler rose to the occasion. No one was cooler under pressure. Not Joe Montana. Not John Unitas. No one.
Toughness is etched in Brett Favre's genetic code, too. He didn't come from a long line of soldiers or explorers like Stabler. But he was carved from granite nonetheless. Like Stabler, Favre demonstrated an almost superhuman toughness, even for the violent sport of professional football.
Favre and Stabler will be inducted into the Hall of Fame this weekend, and the irony that both men are entering the same year is undeniable. Favre and Stabler were, to me, the toughest men to ever play the position. Stabler was first and Favre second. (Terry Bradshaw is third.)
Stabler played in arguably the toughest era of all, the 1970s. Players were starting to get bigger and faster, steroids were creeping into the sport and there were few tangible player safety rules. It was the Wild West. Stabler was often brutalized. More than a few times, he was thrown on his head, flipped wrestling style. Or punched in the face. Or kicked. Or hit five seconds after the ball was thrown. Sometimes a flag was tossed. Sometimes it wasn't.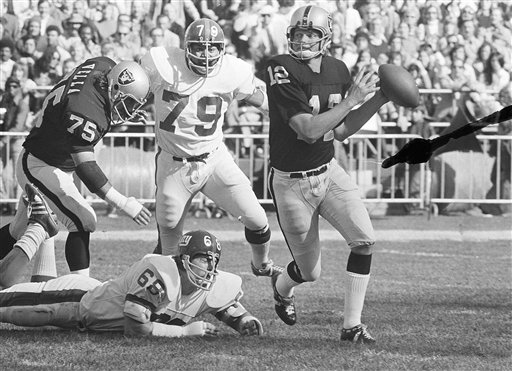 Associated Press
He'd get back up, refusing to stay on the ground. The violence took a toll on Stabler's body, but he always ignored the pain. He always just...played.
I've written a book on Stabler that will be published this fall, so I'm admittedly biased. But I've felt, for decades, that NFL history cannot be written without Stabler. Few players better illustrated the grit essential to play the sport. When hit, Stabler refused to stay on the ground; he only missed games when his body was truly broken.
We now know the true price Stabler paid. We also know this is a price many, if not all, NFL players will pay. That cost for greatness shouldn't be forgotten. But for now—right now—it's OK to focus solely on his place in football history.
Favre may be as close as we'll get to a modern-era Stabler. Hall of Famer Michael Strahan, one of the best defensive players I ever covered, said Favre was nearly impossible to rattle. Hit him, and Favre would pat you on the helmet.
Hit Favre really hard, and Favre would ask about the family. Good hit, he'd say, how are the kids?
Standing up to a pass rush wasn't the only thing that made Stabler and Favre unique. There are their smarts, their foibles, their raw abilities. But for me, their ability to play through pain and stay on the field was the greatest asset of both men.
Many will focus on Favre's gaudy statistics. The most important number, however, is this one: 321—the most consecutive starts in NFL history. The league has never seen anything like that. And it never will again.
The closest active player to Favre is Eli Manning at 194 consecutive starts. He'll never catch Favre. Matt Ryan is 10th at 103. Think about that for a second. Favre's consecutive start streak is three times as long as Ryan's and is over 100 more than Manning's.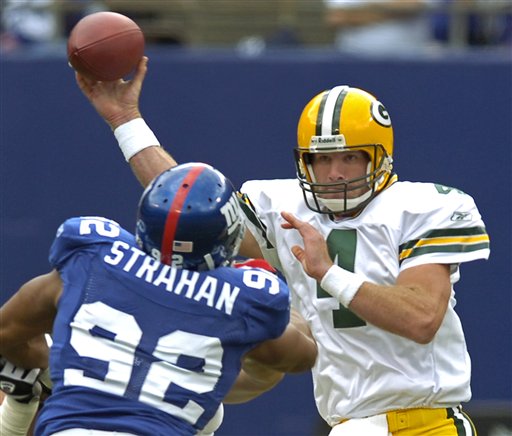 Bill Kostroun/Associated Press
No one will come close.
The increasing violence of the sport makes it impossible. But the determination to play through pain is what truly set Favre and his Hall of Fame predecessor apart.
"The biggest thing about Stabler," Hall of Famer Joe Greene once told me, "is that he never gave up.
"You'd hit him as hard as you could and he'd pop right back up," Greene explained.
Greene remembered once when he hit Stabler "and I thought for sure I broke him in half. He was on the ground for a minute and then looked at me and said, 'Nice hit, Joe.' That's the kind of competitor he was."
In one game during the Raiders' 1977 season, Cleveland defensive end Joe "Turkey" Jones, the brother of Ed "Too Tall" Jones, hit Stabler hard in the back of the neck after Stabler completed a deep pass downfield. Stabler never saw the hit coming. Those are the worst hits of all.
"Usually, when you're around people and think you might get hit," Snake said after the game, "you stay tensed up. But in this case, I'd already relaxed and was watching the flight of the ball when I got hit from behind."
Stabler was knocked unconscious for a few seconds because of the cheap shot.
"Told you we were going to get him," one of the Browns said. "Told you."
In one of many signs of the closeness of the Raiders, and the affection players had for Stabler, Hall of Fame guard Gene Upshaw decided he was going to get revenge on behalf of his quarterback. The next play after the hit on Stabler, Upshaw tracked Jones. Upshaw rammed his helmet into Jones' back. Jones had to be helped off the field. This was 1970s football. This was the era Stabler dominated.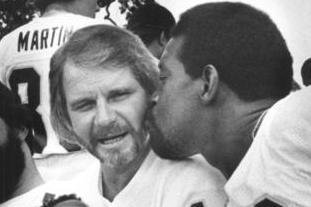 Rich Pedroncelli/Associated Press
In the locker room after the game, Stabler thanked Upshaw. "No one does that to you and gets away with it," Upshaw said.
The Raiders players knew that Stabler always gave everything, no matter the beating, and they in turn gave everything back to him.
It's perfect that Favre and Stabler enter together. No quarterbacks were tougher. None ever will be.
Source:Bleacher report.com