It means the Jamaican sprinter, who won a historic total of nine golds at three Games, is no longer a 'triple triple' Olympic champion.
The decision came after Carter was found to have tested positive for banned substance methylhexaneamine, following a re-analysis of a sample.
The athlete, along with Bolt, Michael Frater and Asafa Powell, made up the quartet which won the 4x100m in Beijing in 2008.
Carter's was one of 454 selected doping samples re-tested by the International Olympic Committee (IOC) last year.
The relay title in Beijing completed the first of Bolt's three gold medal sweeps in the 100m, 200m and relay at three consecutive Olympics.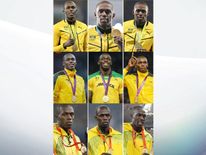 Image Caption: Bolt with his nine golds from three Olympics
Trinidad and Tobago is in line to get the gold medal from 2008, Japan could be upgraded to silver, and fourth-place finisher Brazil could get the bronze.
Methylhexaneamine is an energy-boosting ingredient in many dietary supplements and several Jamaican athletes have failed tests for it before, including five sprinters in 2009.
According to the IOC ruling, Carter noted he was taking supplements in 2008 "advised in this respect by his coach, Mr Stephen Francis".
The verdict added: "The athlete explained that he had given several samples for doping controls whilst he was taking Cell Tech and Nitro Tech before the 2008 Olympic Games and he had never tested positive for a prohibited substance.
"He therefore did not believe that these supplements could contain prohibited substances. He did not understand how methylhexaneamine could have been found in 2016."
Carter can appeal the decision to the Court of Arbitration for Sport.
source:sky sports