"There were three kids playing in the balcony on the fourth floor, and then all of a sudden there was a gunshot which hit the young girl," Wycliff Mokaya said.
Mokaya said police were surprised to find out a bullet had hit the balcony. He said the girl's mother was "in the worst pain."
The Kenyan Red Cross said it had treated at least 93 people injured in the violence.
Most of Kenya is calm
Violence in Kenya could have ripple effects far beyond the nation of 47 million people.
As the largest economy in East Africa, Kenya is a crucial trade route to the continent and provides an important buffer of stability in a region that includes the fledgling Somali government and the politically tense Sudan and South Sudan.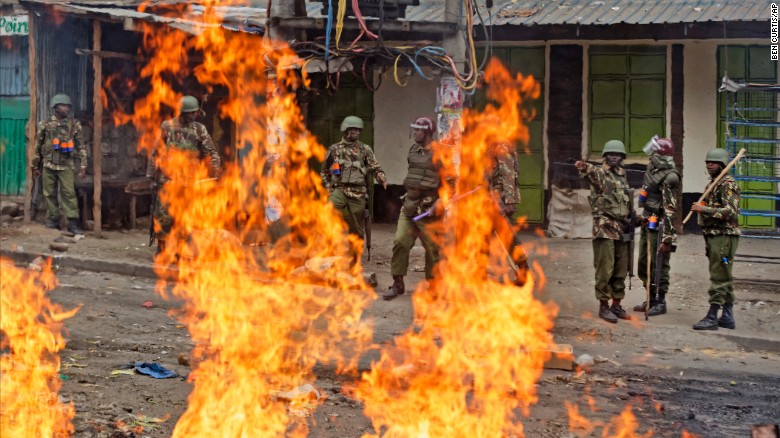 Amnesty International called on authorities to investigate reports that police shot dead demonstrators in opposition strongholds.
"Everyone has a right to peaceful protest and they must not be hurt, injured or killed for exercising that right," Muthoni Wanyeki, the organization's regional director, said in a statement.
The acting interior minister called reports of protester deaths "lies," saying most of the demonstrators are criminals taking advantage of the chaos.
The incumbent President appealed for peace after the result was declared Friday.
"Fellow Kenyans, elections come and go but Kenya is here to stay," he tweeted. "Let us always remember that we are all brothers and sisters."
Extra security
International
observers have urged candidates to respect the outcome
and resolve any poll disputes through legal avenues.
More than 400 international election monitors deployed across the country to monitor voting, the tallying process and the post-election period.
Former US Secretary of State John Kerry, who served as an election observer for the Carter Center, said while there were "little aberrations here and there," the election was not rigged.
"If anything was electronically fiddled with, there is a way to go back and absolutely ascertain what happened in the polling station," he said. "So, by paper ballots, there is a protection of each and every Kenyan's vote."
Extra security forces have been deployed in the capital of Nairobi, interior ministry spokesman Mwenda Njoka said.
Fears of violence
Allegations of vote-rigging have sparked concerns, with some Kenyans fearing ethnic clashes similar to those triggered a decade ago.
Though Kenya's last election in 2013 was mainly peaceful, the country plunged into widespread violence in the aftermath of the 2007 vote.
More than 1,000 people were killed in months of bloodshed following the 2007 election after Odinga -- defeated by then-President Mwai Kibaki -- claimed the vote was rigged.
Source: CNN.com