Views: 1032, Date:19/Apr/2016
Donald Trump and Hillary Clinton notched huge wins in New York Tuesday night, resoundingly answering questions about their command of the race and moving both front-runners much closer to their nominations.
For Trump, the win means he could sweep the state's 95 delegates and potentially position himself to win the GOP nomination without going through a contested convention in July. Clinton's win, meanwhile, could blunt Bernie Sanders' momentum once and for all.
The biggest question for Trump going into the night was whether his margin of victory would be high enough to clinch most of New York's 95 delegates. CNN projects Trump will clear the 50% threshold to take all of New York's 14 statewide delegates. He will need to win majorities in each of the state's 27 congressional districts to win all of the remaining delegates.
With 63% of the vote in at 10:28 p.m. ET, Trump was in the lead at 59.7% while Ohio Gov. John Kasich was at 25.3% and Texas Sen. Ted Cruz was at 15%.
"We're going to end at a very high level and get a lot more delegates than anybody projected even in their wildest imaginations," Trump said in a victory speech from Trump Tower.
He added: "We're going to go into the convention I think as the winner."
With 78% of the Democratic vote in at 10:38 p.m. ET, Clinton was leading Sanders 57.9% to 42.1%.
'Victory is in sight'
"We started this race not far from here on Roosevelt Island," Clinton said in her victory speech. "And tonight, a little less than a year later, the race for the Democratic nomination is in the homestretch and victory is in sight. "
Heading into Tuesday, Trump and Clinton found themselves in a similar position: hoping to gain validation and momentum after a string of disappointments and missteps.
Over the past few weeks, Trump has come face-to-face with the Cruz campaign's strong command of the complicated delegate allocation rules. The GOP front-runner has expressed frustration as he's watched Cruz walk away with victories and grow his delegate pile -- a sentiment that boiled over after the Texas senator swept the Colorado Republican convention earlier this month.
But Trump sought to dismiss Cruz on Tuesday.
"We don't have much of a race anymore," Trump said. "Sen. Cruz is just about mathematically eliminated."
Cruz, whose campaign is prepared to walk away from New York with zero delegates, delivered remarks in Philadelphia Tuesday night that sought to draw a contrast between himself and Trump and emphasize party unity.
"I'm so excited to share with you what America has learned over the past few months, and it has nothing to do with a politician winning his home state," Cruz said, calling 2016 the "year of the outsider."
"We must unite the Republican Party because doing so is the first step toward uniting all Americans," he added. "Let us unite on the things that have always made us great."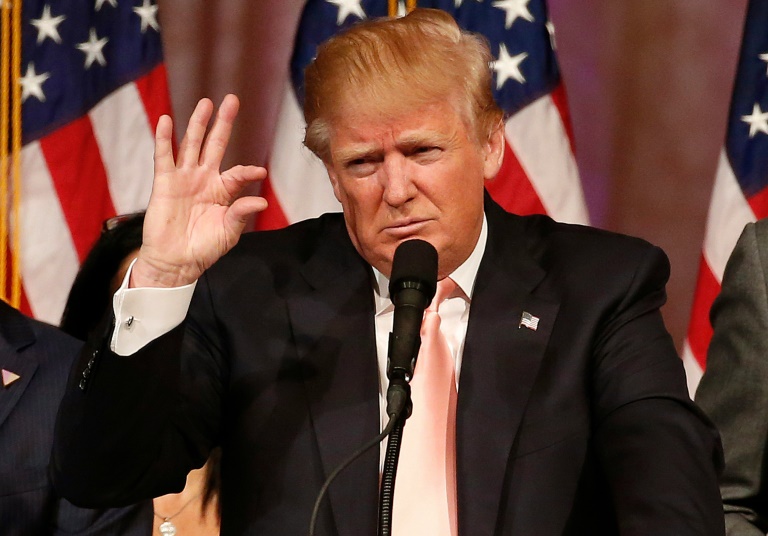 Magic number
Fearing that the magic number of 1,237 delegates needed to win the nomination was becoming increasingly elusive, Trump sanctioned changes within his operations.
Perhaps most notably, he announced the hire of veteran Republican strategist Paul Manafort to oversee the campaign's delegate gathering efforts. Meanwhile, Trump's national field director, Stuart Jolly, resigned Monday amid a staff shakeup that put Scott Walker's former campaign manager in charge of the campaign's ground operations.
On the Democratic side, 247 delegates are up for grabs on Tuesday.
Although Clinton continues to have a sizable lead in delegates, the New York race comes after Sanders has won eight of the last nine Democratic contests -- a reality that the Vermont senator has repeatedly touted on the campaign trail.
"I think the Clinton campaign and the secretary are getting a little bit nervous," Sanders told CNN after last week's particularly combative Democratic debate in Brooklyn.
Tuesday's contests were particularly significant for three of the candidates who have roots in New York.
Trump is a Queens native and Manhattanite whose famous last name is featured on real estate properties around the city. For Clinton, the race was something of a homecoming: she was a New York senator for eight years, owns a home in Chappaqua and her campaign headquarters is in Brooklyn. And while Sanders has represented Vermont on Capitol Hill for decades, he was born and raised in Brooklyn and has spoken fondly about his upbringing in the borough.
Clinton in particular appeared to delight in campaigning in the five boroughs in recent days. She kept a packed schedule that included riding the subway, drinking bubble tea and sampling dumplings in Brooklyn -- all part of an effort to tour the city and mingle with its residents in relatively casual settings.
Trump and Clinton spent Tuesday morning taking care of their first order of business: voting.
Trump visited his polling station, the Central Synagogue three blocks east of Trump Tower, where he cast a ballot for himself for the first time.
"It's a proud moment. It's a great moment. And who would've thought? It's just an honor," he told reporters.
New Yorkers in the spotlight
With so much at stake for the two front-runners, Empire State voters on were in the unusual position -- for the first time in decades -- of playing a crucial role in the presidential nomination process.
Local political figures in both parties are relishing the state's rare moment in the spotlight of a presidential election.
"It's been an unusual circumstance where New York is one of the deciding factors in the Democratic race, so that's exciting," said Democratic Queens Borough President Melinda Katz.
New York State Republican Party Chairman Ed Cox referred to the contests here as his state's "New Hampshire moment" -- a reference to the New England state's outsized role in the presidential primary.
"This is what the New York state party needs. We need this kind of excitement," Cox said. "We are indeed having our decisive moment in selecting the next president of the United States."
Source:CNN